You are currently browsing the category archive for the 'SFP' category.
Presidential Election 2012
The Ombudsman for Minorities Eva Biaudet has been unveiled as the Swedish People's Party's candidate in next January's presidential elections.  Biaudet must receive the endorsement of the party's conference meeting in October, but this is thought to be a mere formality. She announced her candidacy yesterday at a press conference alongside former SFP presidential candidate Elisabeth Rehn, who made it through to the second round against eventual victor Martti Ahtisaari in the 1994 presidential race. SFP's previous leaders and other prominent figures from the party were also alongside Biaudet, showing that she has widespread support at least amongst the party's top. She had been widely tipped as being SFP's candidate for some time in the media.
Before being minorities ombudsman, Biaudet worked at the OSCE in Vienna on issues surrounding human trafficking. She has previously been a government minister and parliament member in Finland.
Biaudet could prove to reach out across the language divide and pick up Finnish-speaking votes. Whilst I can't see her repeating the success of Rehn in 1994, she is a liberal figure that may prove popular amongst those disappointed with the current harder debate climate on matters such as immigration bought about largely because of the recent rise of the True Finns party in national politics. She is also looking likely to be the only woman amongst a field of otherwise ageing men in grey suits. She is also untainted by recent national political involvement which could prove to be an advantage, she also has international experience. I personally think that Biaudet is a great candidate in this election. Someone who would provide Finland with a respectable figurehead internationally at this time when our reputation has become somewhat tainted by the populist wave experienced during our parliamentary elections.  It is also important that SFP has a candidate in the election. Even if there is little chance of an SFP candidate getting to the second round or elected, the election provides many forums to debate political issues, even those not directly related to the president's limited powers. SFP needs to be there debating these issues otherwise it risks becoming invisible to the electorate. With a candidate in the election, SFP can now be sure to be able to take part in the coming debates in the run up to the January election.
And let's not forget, a lot can happen during this autumn and winter. No one would have predicted that Elisabeth Rehn would have made the second round in 1994 at this stage of the campaign. So, let's not rule anything out just yet.
Pictured: Eva Biaudet (left) and Elisabeth Rehn (right)
Yesterday, exactly two months to the day since the parliamentary election on 17 April, Finland's government negotiations finally concluded. The moderate conservative Kokoomus party, the Social Democrats, Left Alliance, Greens, Swedish People's Party, and Christian Democrats finally came to agreement on a government programme. The leader of Kokoomus, Jyrki Katainen, is now set to become Finland's next Prime Minister.
The new government programme is marked by many compromises. It is a broad coalition of ideologically diverse parties that Katainen has been forced to sow together after the success of the True Finns, and their massive gain in seats, in April's election.
The Swedish People's Party (SFP) will get the positions of Defence Minister and Justice Minister. Party chairman Stefan Wallin will fill the defence portfolio, whilst the parliament member from Jakobstad and current chairman of Folktinget (the Swedish Assembly in Finland) Anna-Maja Henriksson will lead the Justice Ministry. She is also a lawyer by education. These are heavy-weight portfolios and give SFP more influence than in the last government. Defence will ensure that Wallin is able to protect the Swedish-speaking Nylands brigad when necessary defence budget cutbacks are announced. Justice also has a role in linguistic policy, in e.g. courts and administrative district reforms. Henriksson's ministry will also be responsible for the shaping of the reforms of Åland's autonomy, which is expected to be expanded during this government's mandate.
SFP has also managed to ensure that much of the action plan of former President and Nobel Peace Prize Winner Martti Ahtisaari on how Finland's bilingual nature will be strengthened is included in the new government's programme.
Naturally, the most important mission for the new government will be to balance the economy. This is going to mean cut-backs in many areas. It will be interesting to see if this does not lead to conflict between the individual parties as they try to limit the extent of these cut-backs to areas that particularly effect their electorate or the areas covered by their ministries. It could be a bumpy ride, in spite of yesterday's agreement on a comprehensive government programme.
Pictured: Anna-Maja Henriksson (SFP), Finland's incoming Justice Minister
Government formation negotiations, Wednesday evening update
The Social Democrats and the Left Alliance have walked out of negotiations to form a new government, following 17 April's parliamentary elections. According to Yle, the two parties could not agree with the others on economic policy matters. The moderate conservative Kokoomus party is leading discussions as the largest party. Kokoomus party chairman Jyki Katainen has said he will contact the Centre party already today to see if they are interested in joining negotiations with the remaining parties at the table, Katainen hopes now to form a non-socialist government comprising of his own Kokoomus, Centre, the Swedish People's Party, and the Christian Democrats.
The Centre Party has previously made it very clear that it would sit in opposition during this parliament after it received a drubbing in the April elections. It remains to be seen as to whether Centre will do a U-turn and say yes to entering government (or at least the negotiations to form one).
Another risk is that the second place Social Democrats try to take the lead in forming a government. Some SDP voices have previously noted that they regretted that the True Finns were not going to sit in the coming government. SDP and True Finns share many similarities in economic policy, an area that will dominate this parliamentary term due to the global economic situation. It's unlikely, but could the worst case scenario involve Timo Soini's True Finns sitting in the next Finnish government after all?
23.52 100% of votes are counted in the election for Finland's 200-seat parliament. 
Results:
Kokoomus, the National Coalition party (moderate conservative) 20,4%, 44 seats
Social Democratic Party 19,1%, 42 seats
True Finns 19,0%, 39 seats
Centre 15,8%, 35 seats
Left Alliance 8,1%, 14 seats
Greens 7,2%, 10 seats
Swedish People's Party 4,3%, 9 seats
Christian Democrats 4,0%, 6 seats
Other (Åland's parliament member), 1 seat
Turnout was 70,4%.
The big news of the night is that the True Finns have performed at the top end of expectations, winning over 19% of votes. A record-breaking 15 percent increase on their performance in the last election. Timo Soini's populists will certainly be invited to government formation negotiations. Will they even be in government?
The conservative National Coalition Kokoomus are the largest party in parliament for the first time in history. Party chair Jyrki Katainen is likely to be Finland's new prime minister.
The Social Democratic Party has come second. Will it enter government together with Kokoomus?
The Centre Party have had a terrible election. The party of Prime Minister Mari Kiviniemi have lost over seven percent of the electoral share compared to 2007.
The Swedish People's Party has had a good night. In an election with a high turnout, something that usually negatively effects SFP, the party has managed to retain all of its mandates. Apart from the True Finns, SFP is the only party not to have lost seats in parliament.
That is the end of this live blog, thank you for reading it. You can find full results in English from the Ministry of Justice's results service here.
23.49 Counting in Nyland/Uusimaa electoral district is complete, the largest and last district to finalise counting. Timo Soini, chair of True Finns, beats Alexander Stubb (Kokoomus) by around 2000 votes to be the vote king in Nyland (and the entire country). SFP manages to hold onto its three mandates – the sitting SFP parliamentarians have been returned.
23.44 It looks like Astrid Thors will take SFP's seat in Helsingfors/Helsinki. Interviewed on Yle, she says that the other government parties have acted wrongly in their lack of meeting populist immigration critics head-on. Thors has had to bear the brunt of much populist hatred due to her position as Migration Minister. She reminds us that there are 80% of the country who do not want to have the True Finns politics.
23.23 Foreign Minister Alexander Stubb tops Kokoomus' candidates in Nyland/Uusimaa, beating his party chairman and leading candidate for Prime Minister Jyrki Katainen.
23.19 Only 100 votes between Astrid Thors and Jörn Donner in the battle for SFP's mandate in the capital city. Too close to call.
23.03 Is this the sixth or seventh election in a row that the Centre party has gone backwards in support asks Professor Göran Djupsund in Yle's coverage.
22.59 Can the True Finns really sit in government together with Kokoomus? True Finns made a big issue of EU support to Portugal in their campaign. They were strongly against giving Finnish tax-payers money to another country that "had not taken care of its economy". Kokoomus' chairman, current Finance Minister Jyrki Katainen, has advocated Finnish support for the EU crisis package to member states in economic trouble. Can either party really make the U-turn required for them to be able to govern together?
22.55  A cartoon in Vasabladet shows an SFP ladybird (the party's logo) thanking the True Finns and the Finnishness Association for the help in the election campaign. It seems that the strong anti-Swedish feeling that the True Finns have blown up has motivated Swedish-speakers to vote for SFP.
22.52 SFP's chairman Stefan Wallin is addressing his party's election night party. He notes that SFP, together with True Finns, is the only party to not have lost any seats in parliament. This is a good result for SFP. Turnout is higher than normal in the country as a whole, normally bad news for SFP. Swedish-speakers tend to be more active voters, but this advantage has been rubbed out in this poll – but SFP have still manage to hold all their seats.
22.44 Voting is finished in Vasa electoral district. SFP retains 4 seats. Centre big losers in this area. Lars-Erik Gästgivars is SFP's new member of parliament in Vasa (Håkan Nordman is retiring from parliament).
22.40 The True Finns chairman Timo Soini has arrived to massive cheering at his party's election party. He says they've made political history.
22.27
Timo Soini responds to a question on whether he will be in government by answering that he will be taking a sauna with Jyrki Katainen. He hopes to sit in government. Yle points out that this election has been bad for gender equality. The True Finns are a very male-dominated party and are taking around 40 seats.
22.13 Maria Wetterstand, joint leader of Sweden's Green party, is being interviewed on Yle. She is married to Finnish Green MP Ville Niinistö. She says that she thinks Finland has handled the True Finns very badly. According to Wetterstand, the other parties should acted cowardly. Only the Greens and SFp have spoken clearly against True Finns, the others have adopted much of their immigrant-critical populist rhetoric.
22.08 Swedish People's Party will almost certainly win four seats in the Vasa electoral district. Ulla-Maj Wideroos of SFP says that it can be so that the True Finns and SFP are the only victors in this election. She notes that the True Finns are very long from SFP's values and that Timo Soini's values don't belong in her idea of what Finland is. If True Finns enter government, will this mean SFP will leave government after decades?
22.07 81% of the votes are now counted. Kokoomus in lead with 20%, True Finns 19,4%, SDP 19%, Centre 15,9%, Left Alliance 8,2%, Greens 7,2%, SFP 4,3%, Christian Democrats 4,1%, Pirate Party 0,5%, Others 1,5%
22.03 A quick flick of the channels from Finnish television to Swedish Television (SVT) for the start of the main evening news bulletin in our western neighbour. The populist True Finns success is the main story. Nearly 20% of the votes to True Finns. This is not a good day for Finland's international reputation. The Swedish media is finding it hard to understand how the True Finns can do so well in a country with so few immigrants.
21.58 First time turnout has been above 70% since 1995. The True Finns have at least increased interest in the democratic process.
21.48 If the True Finns are this election's big winners, the Centre party and the Greens must be the big losers. Where have Green voters turned to? Whilst it's feasible that many Centre voters have turned to the True Finns, it seems unlikely that liberal Green party voters would choose Timo Soini's party. Indeed, the Greens were the only party to say they would not govern together with the True Finns. Could they voters have turned to the SDP?
21.46 Åland is the first electoral district to complete its counting in full. Not surprising as it is the smallest and interest in voting in the election is low there. The sole member from Åland Elisabeth Nauclér has been reelected.
21.33 Yle's analyst notes that should Kokoomus, True Finns and SDP (who are all predicted to gain almost the same number of seats in parliament) form a government they'd have a strong majority without needing any smaller parties. Questionable whether smaller parties such as the Greens and SFP would want to dirty their hands with governing alongside Timo Soini's populists.
21.28 Finnish radio and tv Yle's prognosis has just been released.
True Finns and Kokoomus tie for first place with 19,8 percent of the vote each! SDP in third with 18,5. Prime minister's Centre party  16,4 percent and practically certain to be in opposition. Left Alliance 7,9, Greens 7,3, SFP 4,2, Christian Democrats 4,0. A MAJOR upset. In the past, Yle's prediction have been very accurate. Let's hope it is not this time. It looks like True Finns will be in government if this is true. A horrendous blow for Finland's reputation.
21.19 Prime Minister Kiviniemi has just told television that Centre is likely to go into opposition. When asked if it would be her first choice to go into opposition so that the party could lick its wounds, she seemed to agree it would be the best course of action. Could we see a Kokoomus-SDP government?
21.07 Just now, it looks like the Swedish People's Party (SFP) may win an extra seat – if this occurred SFP would be the only party other than the True Finns to go forward in this election.
21.06 Four large parties of almost the same size. A very unusual situation in politics when one thinks of other countries.
21.05 Caution on the results to date. Many, many advanced votes in the country's biggest electoral district, Nyland/Uusimaa, are not even counted yet. Likely to be many votes for Kokoomus amongst these. They are strong in Nyland.
21.00 47% of votes counted. There's only 0,4 % (!) between the four largest parties!
20.55 Situation just now (percent) Kokoomus (conservatives) 19,2, SDP 19,0, True Finns 18,7, Centre 18,5, Left Alliance 8,2, Greens 6,0, Christian Democrats 4,3, Swedish People's Party 4,2
20.29 Europe and Migration Minister Astrid Thors is currently around 300 votes ahead of fellow SFP candidate Jörn Donner in Helsingfors/Helsinki electoral district. SFP in a terrible position in Vasa electoral district, as things are now, they'd lose 2 seats in Österbotten, but they may be many votes cast today yet to be counted.
20.17 True Finns leader Timo Soini is the current "vote king", having the highest number of individual votes. The extreme right winger Jussi Hallo-aho is in 5th place, also a True Finn.
20.12 Centre party's chair, prime minister Mari Kiviniemi has just told YLE's Swedish-tv channel that if this is the final result, Centre will go into opposition! A slip of the tongue in a second language?
20.10 Finland's likely next prime minister, Kokoomus leader Jyrki Katainen speaking to TV. You can see first results on the caption.
20.03 The Finnish people have voted, polling stations are closed. Advanced voting results come in. Looks like a disaster for the Centre party with 17,3%, down 5,8%. They usually do will in advanced voting. The True Finns have 18,6% of the vote in advanced voting, third place. As expected, Kokoomus are in the lead with 20.2%, but the SDP are close behind on 19,5%. SFP are behind slightly over 1 per cent on the last election, but Swedish-speakings generally vote on the election day, and those results will come in as they are counted. ALL parties, except the True Finns, are behind on the last election.

19.52 Whilst advanced voting results will come in at 20.00, after poll's close, we will have to wait until around 21.00 for a firm idea of how the next parliament will look. At that time, the Finnish national broadcaster Yle will release its first election prognosis. This is usually a highly reliable guide to the final result.
19.45 Just fifteen minutes until polling stations close and those first results are announced. Voting is expected to have been high today. The weather was good and people are invigorated by what was an exciting campaign. Hopefully turn out will pass 70% this time. The last two elections have seen shamefully low turnouts:  only 67,9% of the electorate voted in 2007. By way of comparison, almost 85% of Swedes voted in their latest parliamentary election in September.

19.01 The polls close in just under one hour. Counting of votes cast in advance has already started and the results of advanced voting will be released immediately after the polls close at 20.00. Some news reports earlier in the day suggested that it might not be possible to count them all in time as there are so many advanced votes to count. Over 30% of the electorate chose to vote in advance this year. Residents of rural municipalities are usually those that cast their vote in advance in greatest numbers, so expect the first results to put the Centre party in the lead. The Centre party, with its roots in the agrarian movement, has its strongholds in the more sparsely populated countryside. Swedish-speaking Finns often leave voting to the day itself, so expect a relatively poor showing for the Swedish People's Party (SFP) amongst the first returns. The first results should show if the opinion polls are right on the True Finns – will they emerge with more than 15% of the vote?

18.50 Welcome to this live blog of Finland's 2011 parliamentary election. I obviously can't provide a comprehensive results service, but I'll be providing some snippets of what's happening as the results come in. Naturally, with a focus on Swedish-speaking Finland. All times are Finnish time, we're three hours ahead of GMT – and one hour ahead of central Europe.
The Justice Ministry's election results service can be found online here. It will be updated with the latest results as they come in from municipalities and electoral districts across the country.
Kokoomus' party chairman and finance minister Jyrki Katainen, likely to be Finland's next Prime Minister if the opinion polls are correct.
Saturday is the final day of campaigning for the political parties and candidates contesting this year's parliamentary election. Voting will take place tomorrow between 9.00 – 20.00 at polling stations across the country. Although, over 30 percent of the electorate have already voted during the advanced voting period. On election day, voting must be done at the polling station nearest one's home.
The rise of the True Finns
This campaign has been in many ways the most interesting and exciting for many years. Sadly, largely for unfortunate reasons. It has seen the emergence of the populist nationalist True Finns party of Timo Soini. The party is anti-immigrant and anti-Swedish language. It is against the European Union and the euro, a populist stance to take and an easy vote-winner at a time in which EU financial support is required by several member states in economic crisis. During the course of the last few months, opinion polls have showed that Soini's gang could take as much as 18-20% of the vote, although they have fallen back slightly in recent days. The True Finns will likely come out of tomorrow's poll nearly as large as the three big parties, Centre, the national coalition Kokoomus, and the Social Democrats. For a party that won only 4% in the last election in 2007, this must be considered a great success. Sadly, Soini's True Finns will be the big winners tomorrow. But, I am sceptical as to whether all those voting for the True Finns are actually racists. I suspect many will cast their vote for the True Finns as a mark of mistrust against the established political movements, a protest vote. We have seen party election finance scandals in most of the traditional parties during the last four years. Many who have said they will vote True Finns when asked by opinion pollsters may actually change their mind when faced with the list of candidates at the polling booth. Timo Soini is almost the sole known voice of the party, and he can't stand in every constituency. Whilst he may even top the poll in the Uusimaa (Nyland) electoral district, voters in other parts of the country will be face with a True Finns candidate list of unknowns. They may just decide to vote for someone they know from another party. Should the True Finns win big, will they enter government? I see it as unlikely. Their beliefs are simply too different from the other likely government parties. Sure, we've had coalitions between the conservatives of Kokoomus and Social Democrats before – but they both agreed on fundamental issues such as our European Union membership. The True Finns do not. And, Soini may have a battle on his hands to avoid his party splitting or falling apart during the next parliament. Already there are tensions between the two main blocs within the party; hard-right nationalist members of the racist Suomen Sisu organisation and those members of the former Rural Party. One must also remember that most of the True Finns candidates have little to no political experience. They may find parliament rather boring once they get there.
Svenskfinland
Turnout in this election is likely to be higher than in the last two due to the less predictable nature of the outcome. The Swedish People's Party (SFP) has traditionally benefited from a lower turnout, as Swedish-speaking Finns vote in disproportionately higher numbers. This advantage may be rubbed out this time. Although, on the other hand, perhaps even more Swedish-speakers will vote – and vote for SFP rather than other parties – because of the threat of the anti-Swedish True Finns and because of the recently worsened language climate in general.
In the Nyland (Uusimaa) electoral district, SFP should be able to hold onto its three mandates. But, they may well change hands. They party will have difficulty increasing its presence in an electoral district that has seen ever increasing immigration from the Finnish Finland. Kokoomus' charismatic foreign minister Alexander Stubb may also win a significant number of Swedish-speakers' votes. He has been campaigning also in Swedish with full page advertisements in Hufvudstadsbladet. The SDP will be hoping that at least Maarit Feldt-Ranta wins reelection, she is likely to do so. This is the country's largest electoral district, and Timo Soini is on the True Finns' list. It will be interesting to see whether he manages to top the poll in the district. He faces a strong challenge from the likes of Jyrki Katainen (leader of Kokoomus) and Stubb. Indeed, it will also be interesting to see if the popular Stubb manages to gain more votes than his party chairman.
In Helsingfors (Helsinki), SFP will hold onto its existing seat. It's unlikely to increase to two mandates. It is possible that Jörn Donner will win more votes than current Europe and Migration Minister Astrid Thors and thus push her out of the next parliament. Donner is likely to appeal also to Finnish-speaking voters in the capital. However, Thors – who has been widely attacked by anti-immigration populists in many parties – may also win support from Finnish-speaking liberals who are appalled at the current populist tone the immigration debate. The SDP's Jacob Söderman is retiring from parliament and his Swedish-speaking voters will be up for grabs.
In Egentliga Finland (Varsinais-Suomi, Finland Proper), SFP leader Stefan Wallin will almost certainly hold onto his seat.
In Vasa electoral district, SFP will be looking to hold onto its four mandates. It almost certainly shall. However, the popular Vasa politician Håkan Nordman is retiring and he commanded many votes also from Finnish-speakers in his hometown. So, there are lots of votes 'going spare' to be won. The Christian Democrats' Bjarne Kallis is also retiring, and it's likely that many of his Swedish-speaking voters will abandon the Christian Democrats for another party. SFP may benefit from this. The Swedish-speaking arm of the Social Democrats (FSD) has also campaigned hard in this election. They will be hoping that their chairman, Steven Frostdahl, will win a seat. He may well do. The Social Democrat vote will be helped in the Vasa electoral district by the fact that party chair Jutta Urpilainen is on the candidate list in the region. The Centre party has in recent years tried to establish a Swedish-speaking district, however it has been largely discredited by the erratic actions of its chairman Peter Albäck. Centre is unlikely to pick up more than a handful of votes from Swedish-speaking residents of Österbotten.
SFP is also, for the first time, standing candidates in Lappland and Uleåborg (Oulu). The chairman of the Sami Assembly is standing on the SFP list in Lappland. It will be interesting to see how many votes he manages to gather. It is however extremely unlikely that SFP will win a seat in either district. The party is merely preparing to go national in advance of the new election law coming into force, which is likely to have a 3% minimum threshold for parliamentary representation. As the threshold will be based on the nationwide share of the vote, every vote will be important for smaller parties in the future.
Meanwhile on Åland, the election is likely to be met with weak interest and a low voter turnout. Åland has its own political parties and most decisions are taken locally in this autonomous province. People there will be more interested in elections for Åland's own parliament later this year. The sitting candidate, Elisabeth Nauclér, who represents the non-socialist parties on Åland, should easily win reelection. She sits together with SFP members in parliament as part of the so-called Swedish Parliamentary Group.
Come back tomorrow from 20.00 Finnish time (17.00 GMT), when I hope to provide a live blog of the results. 
A few diverse thoughts on the election campaign as it goes into its final week.
Astrid Thors has a sense of humour
Being the government minister responsible for immigration can't be an easy job in a time when populists are on the rise. Migration Minister Astrid Thors of the Swedish People's Party (SFP) has faced a tough time in the media and often hateful threats against her from hardline anti-immigration campaigners. Indeed, due to this she requires a body guard when out in public. But an article in yesterday's Hufvudstadsbladet shows that Thors has not lost her sense of humour during this often tough four year parliamentary term. On Friday, as she campaigned for votes at SFP's election hut next to Stockmann in central Helsingfors/Helsinki, she wore a flowery hat, mocking the Finnish language's nickname of "flower-hatted aunt" referring to persons who are pro-immigration.
Whilst Hufvudstadsbladet's reporter was at the scene, one man did walk by Thors and shouted aggressively, "Kick out the niggers from Finland!" Straight after this, one of the few candidates with an immigrant background from the national Coalition party Kokoomus, Fatbardhe Hetemaj, approached Thors from Kokoomus' neighbouring election hut to admire her hat. At the same time, Kokoomus parliament member for Helsinki Ben Zyskowicz stood with an election brochure and attempted to hand it to an older lady with her grandchildren, to which the elder lady replied in Swedish, "I am not voting for you and I vote in Nyland/Uusimaa electoral district anyway". To which Zyskowicz replied that she should then vote for Alexander Stubb, Finland's foreign minister who is standing as a Kokoomus candidate in Nyland. The elderly lady instead determinedly approached Astrid Thors.
Indeed, it can't be easy to be an immigrant or Swedish-speaking candidate or supporter for Kokoomus. The party contains elements that are extremely hostile to both. The party's youth wing has voted for scrapping the Swedish-language as a part of the compulsory school curriculum in Finnish schools. Whilst the youth wing's chairman Wille Rydman, who is a candidate in the parliamentary election in Helsinki, has expressed anti-immigrant views that can be considered on a par with the populist True Finns. He has in the past even expressed support for the views of the hardline racist candidate of the True Finns Jussi Hallo-aho. Swedish-speakers and immigrants considering voting for Kokoomus candidates such as Stubb should be aware who else might benefit from their vote.
As for Astrid Thors, her strongest challenge in this election probably comes from Jörn Donner. The veteran politician, author, film director and journalist is also standing as an SFP candidate in the capital. SFP strategists hope that Donner could attract a large enough number of votes to ensure that party would win two mandates in Helsinki. This however seems unlikely, and if Donner were too win more votes than Thors, he could knock her out of parliament.
True Finns – Sann'finländarna'
Saturday was a flag day in honour of the Finnish language. The Finnish flag flew outside our house as it did from the flag poles of our neighbours, who are predominantly also Swedish-speaking Finns due to the area in which I live. We are one nation with two languages and it is right that we mark this fact. Yet, it made me think, I wonder how many True Finns supporters and candidates fly the Finnish flag on the 6 November each year, a flag day marking the Swedish language and culture in Finland. It made me wonder whether we should really be translating Perussuomalaiset to Sannfinländarna in Swedish. This will make little sense to the English-speaker, so allow me to explain. The Swedish-language, unlike English and for the most part Finnish, makes a distinction between finne and finländare. Both would be translated as 'Finn' in English, whereas in Swedish the former refers to a Finnish-speaking Finn and the latter to any Finn regardless of language group. Finlandssvensk refers to a Swedish-speaking Finn. The translation "Sannfinländarna" thus means "[the] True Finns" in the sense of all Finns regardless of language group. Yet, the party is clearly against anyone who is not a Finnish-speaking non-immigrant. It doesn't like immigrants or Swedish-speakers. It might be more accurate to translate its name as Sannfinnarna in future. Let's not pretend it is an inclusive party.
Voters disenfranchised in Berlin
One of the perhaps most troubling stories in the last couple of days was reported by Radio Vega's Aktuellt news bulletin this morning. Yesterday was the last day for Finnish citizens living abroad to cast their vote at Finland's diplomatic posts. However, this was made impossible for around 30 persons trying to vote at the Finnish embassy in Berlin. The embassy ran out of ballot papers thus effectively disenfranchising those effected unless they happen to be able to travel to Finland to vote here. Aktuellt's reporter in Berlin spoke with an official from the Berlin embassy who noted that they had noticed that they were low on ballot papers earlier in the week and had ordered 150 more from the consulates in Hamburg and Stuttgart. However, when the reporter asked why it wasn't possible to order more from Finland when there are several flights a day between the Finnish and German capitals, the official was dumbstruck and could not supply an answer. Let's hope that this serious break-down in the mechanics of democracy is an isolated incident.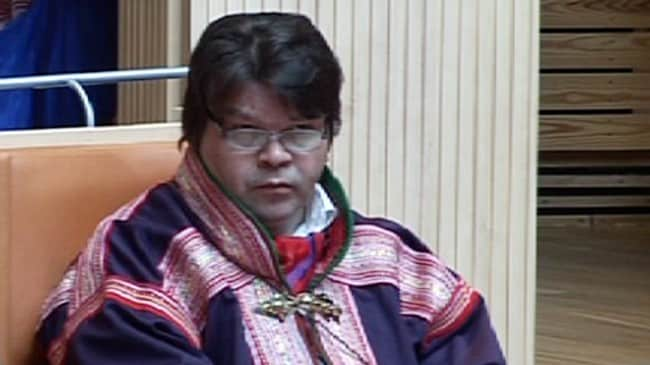 The Swedish People's Party (SFP) is to stand candidates in April's parliamentary election in the Lappland electoral district for the first time. Usually, SFP only offers candidates in the electoral districts of Helsingfors (Helsinki), Nyland (Uusimaa, southern Finland), Egentliga Finland (Finland Proper, i.e. Åboland) and Österbotten, i.e. where the vast bulk of Swedish-speaking Finns live. This year the party is also going to the polls in Uleåborg (Oulu) and for the first time in Lappland. Uleåborg is home to a small 'language island' of Swedish-speakers.
In Lappland, SFP's 5-candidate list will feature Klemetti Näkkäläjärvi (pictured), the present chairman of the Sami Parliament - the assembly representing the indigenous population of Lappland. Näkkäläjärvi told Finnish radio that he wanted to stand for parliament to further the status of the Sami language and Sami culture. According to a press release from SFP, Näkkäläjärvi understands the the need to maintain the ability to access services in one's mother tongue and the needs of minority cultures.
This news reminds me of the time some years ago that then SFP parliament member Eva Biaudet rose the issue of Sami rights during a debate in the Finnish parliament. A parliamentarian from one of the Finnish-speaking parties (Centre if I remember correctly) asked her afterwards why she was bothering to ask such questions on such matters when SFP was never going to win any votes from the Sami population. She said then that as a member of a minority group she sympathised and understood their plight.
The Swedish People's Party (Svenska folkpartiet in Swedish, or SFP for short) is to ponder its own name in upcoming discussions on renewal as part of the ongoing Kasnäs manifesto process.
The aim of the Kasnäs process is to give SFP a clearer, more definable image and to place it on track to win 10% of votes in national elections. Much of the debate has centred on more clearly presenting the party as Finland's principle party of liberal values. There is currently no party in parliament that defines itself as principally liberal. SFP's European parliament member Carl Haglund is leading the Kasnäs process and has suggested that the word 'liberal' is somehow incorporated in the party's name.
According to media reports, uggestions for a new name have included 'Svenska folkpartiet – Liberalerna' (The Swedish People's Party – The Liberals), 'Svenska liberala folkpartiet' (The Swedish Liberal People's Party), 'Folkpartiet Liberalerna' (The People's Party – The Liberals), 'Finlands svenska folkparti' (Finland's Swedish People's Party), or simply 'Folkpartiet' (The People's Party).
Any move away from a name including Swedish would be controversial and potentially dangerous. In seeking out a new source of voters in the form of liberal Finnish-speaking Finns, the party may well alienate its core bloc of voters – Swedish speakers. I feel it is extremely optimistic for those in the party advocating a change to hope that they can both appeal to liberals regardless of language group and maintain the current level of support amongst Swedish-speakers simultaneously.
SFP has always, by necessity, been a broad church, even if the liberal-wing has perhaps had the largest following. Swedish-speaking Finns are by no means a homogenous group. Just as amongst Finnish-speakers, there are farmers, town dwellers, factory workers, bank-owners, entrepreneurs and everything else in between. Certainly not all of these are traditional liberals. However, they do all share the common requirement to have a voice in the Finnish politics that speaks up for the rights of the Swedish language and those that wish to live through it. Emphasising one political ideology as more important than the party's Swedish nature is not the way to electoral success.
That said, SFP does face a real challenge. Increasingly, Swedish-speaking Finns are more and more bilingual in the way they live their lives. For many in the larger towns of southern Finland, the Swedish-speaking part of their identity is less and less a defining point – or, at least not as important as it was for previous generations. They can get by perfectly well in Finnish, their partner is quite probably Finnish-speaking and thus other political issues than language can more easily sway this new group's voting intention.  In addition to that, the coming voting form (of questionable democratic credentials) will make it harder in the future for SFP to gain parliamentary representation. We Swedish-speakers are finally not decreasing in numbers, but we continue to decline as a percentile proportion of the entire national population (and thus as an electoral force). In such a climate, it is understandable and possibly crucial that SFP reaches out to win more Finnish-speaking votes. The sad reality is that the party may be before too long, as the Americans say, be between a rock and a hard place.
The Kasnäs manifesto, the basis of the Kasnäs process which is looking into how best to redefine SFP for the future, can be read in English on SFP's website by following this link.